Want Your Customers To Spend More? Then don't do this!
Lessons in up-selling and cross-selling from a retail giant who 'got it wrong'
The actions of two major European retailers demonstrate two alternative strategies for up-selling, or getting customers to spend more.
The 'Spend More' Strategy
The first strategy is to encourage customers to spend more. That is the strategy of UK retailer Sainsburys – one that became public recently because a poster never meant to be seen by the public was put up by mistake in a shop (rather than a staff canteen).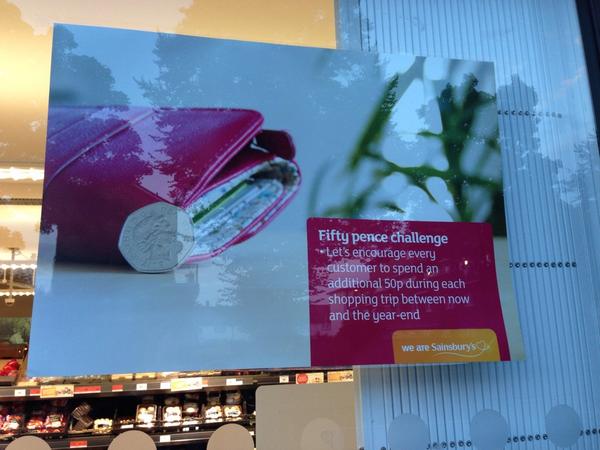 The poster which encouraged staff to get customers to spend and extra 50p on each store visit was spotted by a surprised shopper named Chris Dodd and immediately tweeted to the world.
The 'Save More' Strategy
The second strategy for getting your customers to spend more may at first appear counter-intuitive.  It is to help them to save more.
That is the route taken by the Lidl chain which quickly turned the Sainsbury's slip into a marketing opportunity.
As reported in Retail Week the message from the German discount chain was 'we want to save people as many 50ps as possible'.
The strategy is 'save our customers money and that will encourage them to do more of their shopping with us.  They save, we sell more.  It is a real win-win'.   Plus it is a much more palatable message for the buyer to hear.
Both posters have the same objective – to increase sales and profits, relative to competitors.  But they evidence two different ways about doing it.
The question for sellers is what poster are we holding up to our customers:  Is it the message 'spend more' or 'save more'? Moreover do our customers see us as being in their targets and budgets?
Confirming Buyer Suspicions
Featuring prominently first on social media and then in the general press, the Sainsbury slip up has generated a lot of unwelcome publicity.
Yet, buyers would say that the Sainsbury slip-up confirms what they already know – 'that salespeople just want to sell them more'.  As the posters show however some sellers are better at disguising it than others.
Unfortunately most buyers believe that 'salespeople will say anything just to get them to spend more money!'  That they are 'only interested in is getting sale and earning sales commissions'.  They know that 'the only person's target or budget that sellers are concerned with is their own'.
The Sainsbury poster justifies these beliefs and as sellers we need to demonstrate that we are different.  That we are genuinely interested in our customers and their needs (which so often includes making their money go farther).
Harsh Market Realities
Of course, behind the posters as an interesting anecdote for sellers, is a set of troubling market conditions for UK retailers (as well as retailers in other slowly recovering markets).    As reported the UK's Guardian newspaper retailers are faced with:
– A prolonged fall in real wages has encouraged consumers to shop around for bargains
– Spending on food fell 1.3% in the UK during 2013-2014, mainly due to increased competition from the new discount chains
– Consumers are focusing on wasting less food, buying little but more often.
In such market conditions marketers and sellers will by necessity 'try every trick in the book' and hope that some of them will work.  Regardless there is another lesson from the Sainsbury's slip:
Never print or say anything in front of your staff that you don't want repeated in front of your customers. In a world of smart phones social media saying one thing in private and another in public just doesn't work.